Latest News
By Dave Zornow on 2021-12-26 updated 2022-01-03
Roaming Through Rockland: 5 Favorite Rockland Bike Rides
Rockland is a popular destination for serious, casual and family cyclists because of its variety of roads, trails and bicycle paths. If you've ever wondered where Rockland's regular riders prefer to cycle on road bikes, hybrids, mountain bikes and eBikes, here are five recommendations.
Nyack Beach to Haverstraw on the Hudson River Greenway Trail
Hybrid/mountain bike ride
20 miles / 1,000 ft climbing
Route map HERE
"This gravel ride features
(5 Favorite Rockland Bike Rides continues ...)
---
By Dave Zornow on 2021-11-06 updated 2021-11-19
Roaming Through Rockland: Jones Point Path
by Dave Zornow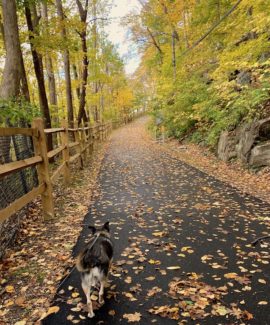 The Jones Point Path just south of Bear Mountain State Park on 9W offers a quiet walk in the woods or a short car free / care free bicycle ride along the Hudson. In addition to spectacular Hudson River views, the path is adjacent to several historical points of interest. Suitable for hikers and bicyclists, the paved multi-use path is two miles in one direction. If you include the short walk/bike from your car through the residential area
(Jones Point Path Near Bear Mountain continues ...)
---
By Dan Cohen on 2021-10-02 updated 2021-11-19
Roaming Through Rockland: The Esposito Trail

by Dan Cohen
If you feel the need to recharge some Sunday morning and get some exercise, but not too much, plus maybe a little something to nosh along the way, the Esposito Trail between Nyack and Piermont in Rockland County is just what the maitr'd ordered. The Esposito Trail combines a pleasant ride with interesting historical stops and some quality restaurants. There's a short version from Nyack to Piermont and back that's about 6 miles, and a longer
(The Esposito Trail Is A Stellar Sunday Brunch Ride continues ...)
---
By Mike Hays on 2021-09-11 updated 2022-01-03
Roaming Through Rockland: Art, History, and Nature on Greenbush Road
by Mike Hays
There's a 3.5 mile strip of Rockland County which packs seven points of interest in less than 3.5 miles. Visitors will find four parks, two arts venues, a historic (and a little bit creepy) artillery tunnel, and a cemetery dating back to the Revolutionary War. You can explore Greenbush Road on a bicycle, or on two feet, with parking at several sites along the way.

Greenbush Road was once a major north-south pathway
(Art, History, and Nature on Greenbush Road continues ...)
President - Cynthia Turner
president@rocklandbicyclingclub.org
Vice President - Steve Crowell
vp@rocklandbicyclingclub.org
Treasurer - Stephen Brehl
treasurer@rocklandbicyclingclub.org
Ride Captain - Duncan McMillan
ridecaptain@rocklandbicyclingclub.org
Secretary - Paul Kadin
secretary@rocklandbicyclingclub.org
Marketing - Bob Urtnowski
marketing@rocklandbicyclingclub.org